It's that wonderful time of year where, thanks to the wonderful Lucy (Queen of Contemporary) we get to celebrate the wonderful world of UKYA!
UKYA has always been important to me (and by always I mean basically since I started reading YA and blogging because I wasn't actually aware of the concept of UKYA until then), and I think that this is mainly because it always seems more real to me. It presents a reality that is closer to my personal experiences than a lot of US books, which is not to compare them in quality. UKYA contemporary in particular always just seems to have the right tone and sense of humour that just makes it seem that much more real to me as a British teenager. There's also a great sense of diversity in UKYA that keeps getting stronger as books like Trouble and Remix by Non Pratt, Starring Kitty by Keris Stainton and The Art of Being Normal by Lisa Williamson are released, and I sincerely hope that diversity increases in all YA. Those are all also brilliant books that you should read right now if you haven't already (apart from Remix which you should read as soon as it comes out on the 4th of June)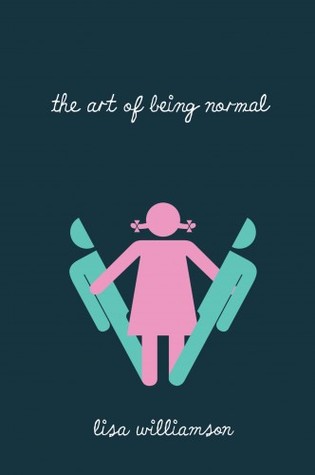 The Art of Being Normal,
about a trans teen.
This has all been a bit contemp-oriented, but UKYA is also great for inventive and fun fantasy, sci-fi, horror, dystopia. You name it, we've probably got it (though you may want to refer to someone who actually knows about more recent/forthcoming release because I am ever so slightly out of the loop!) James Dawson is always good if you are looking for fun, creepy horror with books like Say Her Name and Under My Skin,
though he's also making a move into contemporary with All of the Above which comes out later this year and will be LGBT+ (not to be confused with I. W. Gregorio's None of The Above, which I keep on doing mentally...). If you like disturbing Dystopian horror, then the winner of the first ever YA Book Prize, Only Ever Yours by Louise O'Neill
is for you. It is one of the most unsettling books that I have read, but it is absolutely worth it. A truly chilling look at a future that feels all too close to the world now, and an excellent feminist book.
If fantasy is what really gets you going, then I am always here to recommend Zoe Marriott's books. Personal favourites include FrostFire and Shadows on the Moon, and if urban fantasy is more your thing, then there's also her Name of the Blade Trilogy, the final book of which will be released in July, so there's plenty of time for you to catch up and join in the eager wait for it. There's also Laure Eve's Fearsome Dreamer duology, which has one of the most interesting worlds and genuinely mind-blowing plots that I've read in ages.
This is pretty much the briefest of brief overviews of what UKYA has to offer, but it's not a bad place to start if you're looking to start reading UKYA. There'll be Q&A's all day with authors, as well as a couple of liveshows, all you need to do is check out the #UKYAday hashtag which I'm sure will be busy all day. There also several other brilliant posts celebrating UKYA today, so make sure to check those out! Have a happy UKYA Day, and may there be many more!