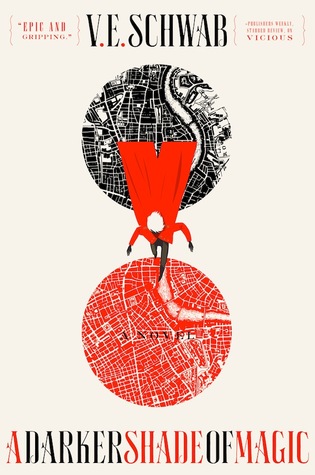 A Darker Shade of Magic
V. E. Schwab
February 24th 2015
Tor Books
Kell is one of the last Travelers—rare magicians who choose a parallel universe to visit.
Grey London is dirty, boring, lacks magic, ruled by mad King George. Red London is where life and magic are revered, and the Maresh Dynasty presides over a flourishing empire. White London is ruled by whoever has murdered their way to the throne. People fight to control magic, and the magic fights back, draining the city to its very bones. Once there was Black London - but no one speaks of that now.
Officially, Kell is the Red Traveler, personal ambassador and adopted Prince of Red London, carrying the monthly correspondences between royals of each London. Unofficially, Kell smuggles for those willing to pay for even a glimpse of a world they'll never see. This dangerous hobby sets him up for accidental treason. Fleeing into Grey London, Kell runs afoul of Delilah Bard, a cut-purse with lofty aspirations. She robs him, saves him from a dangerous enemy, then forces him to another world for her 'proper adventure'.
But perilous magic is afoot, and treachery lurks at every turn. To save all of the worlds, Kell and Lila will first need to stay alive — trickier than they hoped.
It is no secret to anyone who has spoken to me since I have read this book that I absolutely loved this book. I knew from the moment it was announced that it was going to be great, especially as Vicious had just been so good. I was right, as per, but I think anyone who reads that blurb and looks at that cover knows that they're in for a goodun'. I loved this book so much that I've come out of my sad university cave to spread the word, even if it is about a month late.
There are many things about ADSOM that I love greatly. It's not a perfect book, but it is good and it is fun and what more do you want from a book, really? The characters were what really made ADSOM come to life, for me. And I think that it speaks to the quality of this book and to Schwab's skills that she can take characters that feel familiar and turn them into something new and fun. The tropes are there, but they never feel old or lazy or poorly used. It is difficult to pick a favourite of of Kell, Lila, Rhy and Holland because I genuinely loved them all so much. They all work so well together as a kind of unit in that it is their interactions with each other that really bring them alive. There is also more room for humour in this book then there perhaps was in Vicious which definitely helps to ease the reader into the world and into liking the characters, regardless of whether you agree with their actions. There is also mucho shipping potential in this book despite the lack of actual romance. I myself am partial to Holland/anyone, Kell/Rhy, Rhy/Lila. Rhy/Kell/Lila... Basically every possible combination. I have no shame.
The world is incredible. It is built so well, and world building is very important to me. I felt like I had a real sense of the three main different Londons, the magic and the rules behind that magic and the logic of the world. It's not too complicated or convoluted, and the rules are firmly set up in a way that isn't info dumpy. That, and it's a fun a world. Who doesn't want to read a fantasy book about parallel Londons? WHO. It's a cool idea and it's brought to life in a great way, and even if the characters were what made this book for me, the world is a very close second. There are such distinct differences between the Londons, and they are all so beautifully drawn out, each with their own positives and their own drawbacks. Even Red London, seemingly the best with its relationship with magic is problematic in other ways. And I really like the whole interdimensional politics aspect of the book, the history of these Londons and their relationships with each other and how they get along now. Even though I figure they're probably kind of irrelevent, I'm also interested to know about the larger worlds of Red and White London, and how they have developed in comparison to Grey London (our 18th century London)
I enjoyed the pacing and the plot a lot, but for me this was also where I had some qualms. Personally, I thought the ending was too neat which is not essentially a negative, but I feel like this came at the cost of a (admittedly fairly small) plot thread. I haven't seen this brought up though so it's probably just me being a fusspot/not actually realising what was going on. It didn't detract from my enjoyment of the book, though. The pace is so fast and the world, the characters, the plot so engrossing that small issues didn't really bother me at all. There's also a lot of perfectly distracting angst in ADSOM, which is always good. I love me some good angst. Not too much angst, not too little angst. The fic writers are going to have a field day with ADSOM, let me tell you.
All in all, A Darker Shade of Magic was about as good as I was hoping it would be (ie, BRILLIANT), and I am so gosh darn excited about the sequel already that I might explode a bit when it actually comes out. Long story short, READ THIS BOOK. If you haven't already, that is. It has been out for over a month. You really should have already read ADSOM, let's be real. It's so pretty. Okay, I've stopped making sense. This book is turning me into an incoherent mess.