Correct, that is the vaguest of all vague titles but contrary to blog evidence, I have actually been reading stuff and watching stuff in all this time that I have not been making blog posts of mixed quality about the stuff that I have read. THIS IS THAT BLOG POST. Because I seem to have forgotten how to write actual reviews (??? I know but every time I sit down to write one it just seems like the worst, most poorly written and boring thing that I could possibly be doing. Sadly, this leads to a complete lack of blog posts because I'm not reading enough to do round up type things and I never have any ideas so????? I just do nothing?????) I thought I'd just do a big old round up of some stuff that I have liked recently so I don't feel like 100% a fraud. Just, like, 87% a fraud.
BOOKS
I have been relatively slow on the reading front because, well I don't know why actually. It's not uni because that wrapped up a while ago. And it's not that I don't want to read, because I do. It's just that nothing is appealing to me and I can't settle down and read a thing and I don't know how I always used to have at least one book on the go and then just went immediately into reading another one without really thinking too hard about it. I was so excited about summer because of all the time I'd have to do things but it stresses me out how much time I have because I want to do so much that I get nothing done at all. ANY HOO. This is not what any of us wanted, so have some recs instead.
Simon vs the Homo Sapiens Agenda by Becky Albertalli - I finished this book and then wanted to start rereading it immediately after. IT IS SO CUTE. I said this on Twitter many times while I was reading it and I'll say it again. It is the cutest darn book on this earth and I had the goofiest fucking smile on my face when I was reading it and it just made me so happy. I don't know if I liked everything about it, but that didn't matter to me when I was reading it because I was enjoying myself so much. It is a fun book and it is a cute book and it made me smile so you should read it. If it can touch my cold dead heart then there's no escaping it.
And now for some LGBT+ books which I also loved but are maybe not as joy-giving as Simon: More Happy Than Not by Adam Silvera and I'll Give You the Sun by Jandy Nelson, coincidentally both yellow books because they want to trick you into thinking you'll have a pleasant time reading them. WRONG. YOU'LL JUST CRY but you'll love it so it won't bother you that much. I definitely liked More Happy Than Not more than IGYtS (even though they're not actually that comparable). There was something about Aaron and his life and his world that struck more of a chord with me than the twins in Nelson's book, and I think this is partially due to the writing style. Nelson has such a gorgeous style, but I personally found that to be a bit of a barrier between me and the characters. It sometimes felt that they were so buried in whimsy that there wasn't much else there? It is beautiful to read, though, and I know that there are a whole bunch of people out there who'll disagree with me. MHTN definitely just drew me in a lot more, though. It's probably one of my favourite books of the year, even if it is not a particularly happy one.
And while we're on the subject of books that are not particularly happy, let me draw your attention to All the Rage by Courtney Summers. It is a punch to the gut, but the best punch to the gut you'll ever get in your life. It is upsetting and hard to read and brutally honest and so angry and it is hard to look away from. When I was reading it I became so immersed in Romy's anger and Courtney Summers' anger at the injustice of it all. Summers is always good at tackling difficult subjects and equally difficult heroines, but she really blows it out of the park here. Romy is so engaging as a character regardless of whether you agree or disagree with her actions, whether you like or don't like her. I just love this book.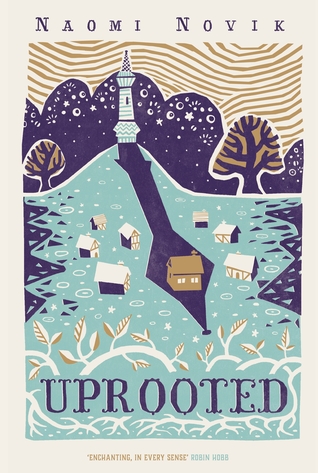 Now just to mix it up a bit, I'm going to end this on my favourite book of the past few evers, Uprooted by Naomi Novik. If you follow me on Twitter, you will have seen me going on about Uprooted pretty much all the time, and that is because it felt like it was written just for me. There are so many things that I love about this book - the main character Nieszka, the Dragon and the way it gently subverts your expectations. It feels familiar, but never old fashioned. There is the most stunning friendship between Nieszka and her friend Kasia, probably one of my favourite friendships in a book ever. It's my favourite kind of fantasy, and even if I did have some issues with the pacing at the end, that could never stop me from loving Uprooted in the way that I do. If you are reading this, and you have read Uprooted already and loved it because you are a good and sensible human being, please let me know if you have any recs for similar sort of books! I would thank you forever.
As the title would suggest, I'm hoping to do a couple more posts covering comics, games, films and TV shows that I've liked lately, if that would be of any interest? I really do want to get back into blogging at least slightly more frequently than I have been this past year!