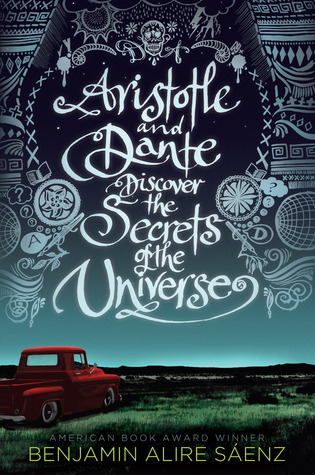 Aristotle and Dante Discover the Secrets of the Universe
Benjamin Alire Saenz
February 21st 2012
Simon & Schuster
A lyrical novel about family and friendship from critically acclaimed author Benjamin Alire Sáenz.
Aristotle is an angry teen with a brother in prison. Dante is a know-it-all who has an unusual way of looking at the world. When the two meet at the swimming pool, they seem to have nothing in common. But as the loners start spending time together, they discover that they share a special friendship—the kind that changes lives and lasts a lifetime. And it is through this friendship that Ari and Dante will learn the most important truths about themselves and the kind of people they want to be.
Aristotle and Dante is another book that I loved. I know, I've loved every book lately, but it's nice to read so many books in a row (like, 4?) that I have just adored. When I finished Aristotle and Dante Discover the Secrets of the Universe, the first thing I wanted to do was read it again. Straight away. Which I kind of did, because it's just so touching and sweet and not always easy, but always good.
I really loved both Ari and Dante, and I think that to read a version of the story told from Dante's perspective would be amazing (I think I saw somewhere that Benjamin Alire Saenz was working on it, but I might have dreamed that). Ari is kind of broody and gets into fights sometimes, and is angry without sometimes knowing why (so, basically, a normal teenager), but he wasn't the kind of character I was expecting him to be. Well, he was all those things, but he was so much more, and I enjoyed him having all these complexities and really getting to see who he was as well as who he made out he was. Tough, but vulnerable. Obviously in love with Dante, but in denial about his feelings. It was great reading about his journey of self discovery as well as friendship and love.
Dante was also wonderful, and might be one of my favourite characters in a while. He poses a nice contrast with Ari as he's quieter and more sensitive, but incredibly stubborn. He also has this lovely innocence regardless of what he actually does and he's just so weird and sweet and ugh. I want to give him a cuddle, but he probably would resent that. Ari and Dante just work so well together, and I love their friendship and their love (I say love as in friendship love as well as like romantic feelings because they are both there). They have such a great dynamic.
Aristotle and Dante Discover the Secrets of the Universe is also just beautifully written. It's one of those books that just strikes a chord with people, I think. It struck a chord with me, any way. It deals so tactfully and wonderfully with themes of identity and family and friendship the kind of things that contemporary YA is usually about, I suppose, but that doesn't really matter. It covers all those things without being annoying or seeming pretentious, which I liked a lot. It just felt honest.
I wish I had a lot more to say about this book (I always wish I had more to say about a book unless I end up writing about 7 paragraphs about it and then I wish I had a *lot* less to say) because I did love it a lot. It's sweet and enjoyable, but doesn't feel fluffy (not that there's anything wrong with that I will always and forever love 'fluff' whatever the hell that is anyway), and it's diverse which I have been trying to work on a lot this year to probably limited results. The point of this whole thing is that Aristotle and Dante Discover the Secrets of the Universe is a really great book that you should definitely read if you're in the mood for a contemporary about two boys who totally fall for each other.