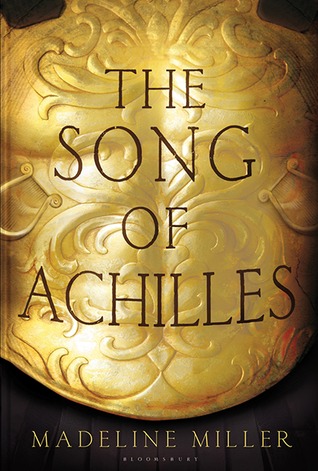 The Song of Achilles
Madeline Miller
20th September 2011
Bloomsbury
Greece in the age of Heroes. Patroclus, an awkward young prince, has been exiled to the kingdom of Phthia. Here he is nobody, just another unwanted boy living in the shadow of King Peleus and his golden son, Achilles.
Achilles, 'best of all the Greeks', is everything Patroclus is not — strong, beautiful, the child of a goddess — and by all rights their paths should never cross. Yet one day, Achilles takes the shamed prince under his wing and soon their tentative companionship gives way to a steadfast friendship. As they grow into young men skilled in the arts of war and medicine, their bond blossoms into something far deeper — despite the displeasure of Achilles's mother Thetis, a cruel and deathly pale sea goddess with a hatred of mortals.
Fate is never far from the heels of Achilles. When word comes that Helen of Sparta has been kidnapped, the men of Greece are called upon to lay siege to Troy in her name. Seduced by the promise of a glorious destiny, Achilles joins their cause. Torn between love and fear for his friend, Patroclus follows Achilles into war, little knowing that the years that follow will test everything they have learned, everything they hold dear. And that, before he is ready, he will be forced to surrender his friend to the hands of Fate.
Profoundly moving and breathtakingly original, this rendering of the epic Trojan War is a dazzling feat of the imagination, a devastating love story, and an almighty battle between gods and kings, peace and glory, immortal fame and the human heart.
The Song of Achilles was never really a book that I had thought much about reading, even though I'd seen it around for a while. I've always thought that ancient history and myth was interesting, it's just that I don't really know much about it, especially the Trojan War. Literally all I knew about that was the whole horse shenanigan and Achilles' heel. I didn't even know who Achilles was. But then I spent most of last week watching Spartacus: Blood and Sand and the other two miniseries, and even though it was kind of gloriously bad (and yet simultaneously SO GOOD), it put me in the mood for some ancient stuff. So I bought this book, and I think I have now basically absorbed it into my soul. I loved it.
The Song of Achilles is a book about the relationship between Patroclus (who narrates the novel) and Achilles, and it is so beautiful. Like I pretty much just said, I know next to nothing about the Trojan war (I seriously just had to google whether it was real or not just to be sure. It is not. I did Latin for two years I should definitely know more about this stuff I am so embarrassed) and the Illiad so I didn't even know who Patroclus was, let alone his role in Achilles life etc, so I wasn't really reading this book so much as a retelling as just a new story. I can't really comment on it's accuracy or anything as a retelling, but even if you have no knowledge of this stuff it still reads really well, so therefore should not act as a deterrent to you reading this book and therefore you have no reason not to read it. Why haven't you read it already, really, is the question we should all be asking.
As you can probably tell by now, this is going to be much less a review than just an excuse for me to lay out all of my emotions for this book. I cannot think of a thing about it that I didn't love. I loved the writing. It was so clear, but so beautiful and it flowed so well. I loved Patroclus' voice and the fact that it was first person so we could get that whole sense of intimacy and love that he has for Achilles without him being overshadowed by Achilles himself. I loved Achilles, and how he was so innocent, and yet how he became this great prophesied warrior whose ultimate downfall was his hubris and rage in his grief. I loved the fact that it covered their whole lives together, from before Patroclus and Achilles met to the end and watching their relationship go from Patroclus being jealous of Achilles to them becoming friends, best friends, lovers. I loved the world, the matter of factness about the gods and prophecies and how these are just a part of this world with no explanation. It is just how things are. I loved the ending. I read the last 30-40 pages three times on the day that I finished it, and then wondered why I kept on hurting myself that way because holy tragedy batman it is fucking sad. But kind of not, at the very end. If I had to rank it on a scale of Books That I Have Made Me Cry, I wouldn't put it all the way up there with Code Name Verity, but I would say that it's fairly close to the top. It's the kind of book I can see myself reading again and again in the vain hopes that this time it will end differently before it breaks me heart again. I'm tearing up now just thinking about it, but I am a crybaby so that could be like a solid 40% of the reason why.
I don't know. I don't know what else to say about it. I'm kind of struggling to properly do it justice. I couldn't read it quick enough, but at same time I wanted to take my time to put off the inevitable (I don't know much about Troy but even I could tell that this was not going to be a happy happy book). I devoured it in a way that I haven't done with a book in a while. I mean, there are books that I've read quickly but not with the same sense of hunger. I don't know. I'm not even trying to force this book on to people, I just really wanted to talk about it. It's just such a beautiful book. This is one of the few books that I've read that I want to reread that isn't a comfort book. I don't know, this book was just right for me at this time and I'm just kind of in love with it and I can't see myself reading it and not loving it, like how sometimes happens with books that read and love, but that time kind of erodes your opinions of.
I just loved this book so much, you guys. So so so much. I'm not saying it's perfect, I'm just saying that it is special.