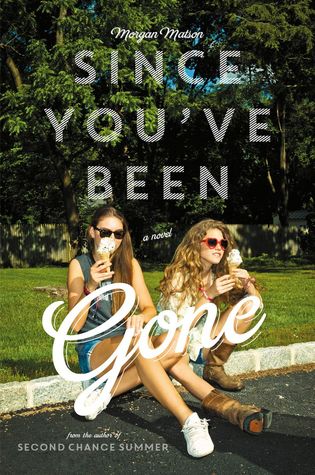 Since You've Been Gone
Morgan Matson
May 6th 2014
Simon & Schuster
It was Sloane
who yanked Emily out of her shell and made life 100% interesting. But right before what should have been the most epic summer, Sloane just...disappears. All she leaves behind is a to-do list.
On it, thirteen Sloane-inspired tasks that Emily would normally never try. But what if they could bring her best friend back?
Apple picking at night?
Okay, easy enough.
Dance until dawn?
Sure. Why not?
Kiss a stranger?
Um...
Emily now has this unexpected summer, and the help of Frank Porter (
totally
unexpected), to check things off Sloane's list. Who knows what she'll find?
Go skinny-dipping?
Wait...what?
I have loved all of Morgan Matson's books so far, so it will come to no surprise that I loved Since You've Been Gone, too. It's just as sweet and heartfelt as Amy & Roger and Second Chance Summer, and I highly recommend all of Morgan's books to any one who has yet to discover their brilliance (and if they like contemp YA).
Since You've Been Gone really balances three of my favourite things in contemp YA (really three of my favourite things in ANY book, let's face it) - sweet romance with a person who is actually nice, friendship (FRIENDSHIP TO THE MAX), and awesome character development. That being said, I can't think of any aspect of the book which I actively disliked or didn't enjoy. Also, it had playlists in it. Playlists in books are my weakness. Even if they're not the kind of music I would normally listen to, like in this book for most of Emily's running playlists, I have to make them. Odds are I won't even listen to them more than once, but I just like to have them. Playlists and maps. All books should have them. Seriously, if you find me a book with a playlist AND a map I will probably cry with joy.
Anyway... I liked Emily a lot in this book. It's really important to me in books like this that the main character has some sort of personality so that the book doesn't just read like some OC fanfiction because I, personally, am not about reading books picturing myself as the MC. I don't get that. But to each their own! I liked Sloane a lot, too, which you might think sounds a bit odd considering that she's not actively in the book that much, but most of the chapters have a flashback of when Sloane was there, so you really get the backstory and key moments of Emily and Sloane's friendship. I love important friendships in fiction (and real life), ones that shape people, and I think I am justified in saying that this is one of those pivotal friendships. The whole time that I was reading the book I was worried that it was going to turn out that Sloane was kind of a terrible friend and that the book was going to be about Emily realising that and making new friends, but I did not have to be worried. That wasn't the case at all. I was so happy that they were both just normal human people with flaws who sometimes make poor decisions. I was so happy that Emily was just as important to Sloane as Sloane was to Emily. I really feel like this was a book about Emily finding Sloane, but also about Emily finding herself without Sloane, in a way that benefits both herself and their friendship. If that makes sense.
I will admit that as much as I loved the friendship (which I really did. It was one of my favourite parts of the book), and as much as I loved Emily's growth as she started to do the things on Sloane's list, starting with the easy things and moving further and further outside of her comfort zone (which was awesome. Character development, hooray!), I also loved Frank a lot. I've already said this, but Frank is just so great. And Emily and Frank together are so great. I loved their development from sort of knowing each other to friendship to romance. And I also just felt really involved in the book. I felt really awful for Emily in the part of the book where everything is messed up (because there is always a part in these kinds of book where everything is messed up before everything is happy), because I felt like she'd grown so much and she was trying so hard, even if what she did was kind of wrong? I was still on her side.
Since You've Been Gone is a really lovely book, and it's probably my new favourite of Morgan Matson's books (well, really they're all tied for first place because they are all amazing), and I am just so excited for her next book. I don't know what it's about or when it will happen, but I know that, like with all her other books, it will be great.